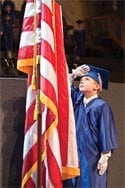 It has been said that a child's overall success in school, and later in life, is directly related to his or her success in reading. This group of skills includes: basic vocabulary, verbal expression, awareness of letters, sentence sense, story comprehension and story telling, awareness of books and printed words, and related writing readiness skills, all of which contribute to a successful start in reading.
Our kindergarten program is designed to develop basic skills which prepares a child with early reading skills. It is a program based on a complete scope and sequence of concepts and skills needed to prepare a child to be ready to read.
We offer a Kindergarten Readiness Screening in the spring for children entering our kindergarten program. This standardized test will give parents and preschool teachers some ideas for things to work on in preparation for kindergarten.



Online Applications
Enrollment Application for NEW students (Please read our Parent Handbook of Policies by clicking
here. You won't be able to submit an application until you have done this.)

Re-registration Application for RETURNING and CURRENT students who already have a procare account (incl. extra activities, field trips and Drop-In Days)