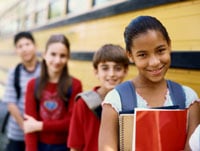 Are you looking for a fun and safe place for your child for after school? Join us for our Before & After School Club! Transportation is currently provided to and from Spencer Loomis, May Whitney, St. Francis, Isaac Fox, Sara Adams, Middle School North, and Seth Paine. We have two full size gymnasiums, two outdoor playgrounds, an indoor playland, computer lab, inflatables, fishing pond, indoor swimming pool, horse barn, paddleboat, rock climbing wall, and security cameras in each classroom. We also offer swimming lessons, pony riding lessons, tutoring, and private instrument lessons. The kids will play a variety of sports, play organized games, do baking projects, and arts and crafts. Kids are welcome to drop in for school holidays, early dismissal days and institute days too!
Please leave cell phones and electronic devices at home.


Summer Camp is full with an extensive waiting list. We are no longer accepting Summer applications or taking names for the waiting list. We are so sorry!


Online Applications
Enrollment Application for NEW students (Please read our Parent Handbook of Policies by clicking
here. You won't be able to submit an application until you have done this.)

Re-registration Application for RETURNING and CURRENT students who already have a procare account (incl. extra activities, field trips and Drop-In Days)