Ages 3-5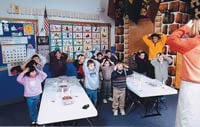 Our FULL DAY program is available from 6:30 a.m. to 6:00 pm (Late Pickup Available). Monday through Friday. You can choose which days, and how many days each week you would like to sign up for. The children have a 2.5 hour phonics based preschool class each morning and a variety of play activities throughout the day. Breakfast, a hot lunch, and two snacks are also provided. See the typical daily schedule below for an outline of our full day program.
Curriculum
We are an accredited preschool using a phonics based curriculum created by "Accelerated Christian Education" that introduces a new letter of the alphabet each week. Along with each letter, the children will learn about an animal that begins with that sound. Through music, stories, crafts, games, Bible stories, character traits and baking the children will learn the sounds each of the letters make and develop a curiosity for learning more. They will also learn numbers, colors, shapes, self help skills, gross and fine motor skills, tracing, coloring, cutting, classroom etiquette, calendar details, opposites, socialization, and manners. The children will have an opportunity to visit our playgrounds, gymnasiums, inflatables, rock climbing wall, and indoor playland for exercise and to develop coordination. Our goal is to make school a fun environment in which children are able to learn age appropriate skills, and work well with others.
Typical Daily Schedule
6:30 - 7:00 Free Play
7:00 - 8:00 Breakfast
8:00 - 8:45 Free Play
8:45 - 9:00 Clean-Up. The children are sent to the restroom in small groups before class time.
9:00 - 11:30 Class Time

Review Concepts from previous week
Introduction to new letter (animal)
Pledge of Allegiance to American Flag
Monthly Song
Calendar Activities
Phonetic Animal song with character building story
Puppet show
Playground time/Train ride on Quentin Road Express
Baking projects
Gym time/Playland/Rock Climbing Wall
Music time
Math/Science
Crafts
Computer Lab
Worksheets
Snack (varies)
Bible Story and Song
Inflatables

11:15 - 11:30 Restroom and hand washing
11:30 - 12:00 Lunch
12:00 - 12:30 Free Play/Playground/Gym
12:30 - 12:45 Restroom
12:45 - 1:00 Story Time
1:00 - 3:00 Nap - Children will be encouraged to rest quietly on their cot during this time. Feel free to send a small blanket for your child that you can take home weekly to wash. (No pillows, please.) Pre-k classes only nap from 1p-2p during the school year and not at all during the summer.
3:00 - 3:15 Restroom and hand washing
3:15 - 3:45 Snack
3:45 - 6:00 Free Play

Gym time/Playland/Rock Climbing Wall
Playground/Train ride on Quentin Road Express
Video
Craft/Paper
Sing - a - long


Summer Camp is full with an extensive waiting list. We are no longer accepting Summer applications or taking names for the waiting list. We are so sorry!


Online Applications
Enrollment Application for NEW students (Please read our Parent Handbook of Policies by clicking
here. You won't be able to submit an application until you have done this.)

Re-registration Application for RETURNING and CURRENT students who already have a procare account (incl. extra activities, field trips and Drop-In Days)